Nick Szabo's Essays, Papers, and Concise Tutorials
| | |
| --- | --- |
| A Measure of Sacrifice (On Time) | Why were two technologies from two very different crafts traditions -- the mechanical clock and the sandglass -- invented at the same time and place? |
| Update -- Scarce Objects | An architecture for usage control (not mere access control) for distributed objects interacting across trust boundaries. |
| Update -- Shelling Out -- The Origins of Money | The origins, functions and aesthetic, monetary, and security properties of proto-money. |
| Origins of the Non-Delegation Doctrine | An analysis of the delegation (or lack thereof) of the power to make law from the legislative to the executive branch in the early United States, uncovering some distinctions and factors that may shed light on modern non-delegation cases, and introducing representation distance and the principle of least authority as constitutional doctrines. |
Concise Tutorials
Recent Essays and Papers
| | |
| --- | --- |
| A Formal Language for Analyzing Contracts | Useful for financial cryptography, risk analysis, and accounting for the value of derivatives, combinations, and other sophsticated contracts. |
| Advances In Distributed Security | The new paradigm of very highly probable, rather than absolutely certain, security has led to a raft of new possibilities for securing distributed applications. For the first time we can implement on the Internet crucial integrity properties and applications -- including synchronized clocks, unforgeable transactions, and censorship-proof publishing. |
| Rights, Remedies, and Security Models | Legal concepts and terminology can shed light on computer security problems, such as delegation of authority. |
| Scarce Objects | An architecture for usage control (not mere access control) for distributed objects interacting across trust boundaries. |
| Patterns of Integrity -- Separation of Duties | A recurring and reusable pattern for controlling dangerous functions. |
Technological Protection of Rights
Security, Fault Tolerance, Computation, Information, Mathematics
History and Theory of Institutions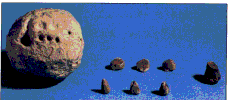 Clay envelope and tokens,
Sumer, c. 3,400 B.C.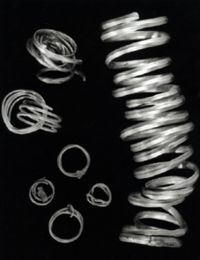 Silver ring and coil money,
Sumer, c. 2,500 B.C.
| | |
| --- | --- |
| Shelling Out | The nature and origins of money. The aesthetics and monetary properties of collectibles. The first institutions allowed humans to cooperate more than other animals. |
| The Playdough Protocols | How tamper evident technology led to the first contracts and accounts -- and then the birth of writing and mathematics. |
| Measuring Value | A fundamental problem shaping the history of institutions. |
| A Measure of Sacrifice (On Time) | The hourglass, mechanical clock, and how we have spent most of our days since. |
| Brehon Law | A decentralized, pre-literate legal system with lessons for a multimedia age. |
| Recovering Privity | A pre- and post-industrial concept of knowledge, relationships, and responsibility. |
| History of Commercial Law | Links to resources. |
Law and Philosophy
E-Commerce and Online Business Processes
Advanced Distributed Security for Online Commerce
Links to Other Work in Smart Contracts
The E Language A nice distributed object language.
FIRM A network-centric design for relationship-based rights management.

Links to Fault Tolerance and Cryptographic Protocols
Links to Mathematics, Computation, Information, and Statistics
---
From the Usenet FAQ
Ronald Reagan 1911-2004 Colorful preview of resume (contact for details):



DigiCash


My worldview draws heavily from scientific methods, including theoretical and personal applied science.
---