NKI TE-VOICE Analysis tool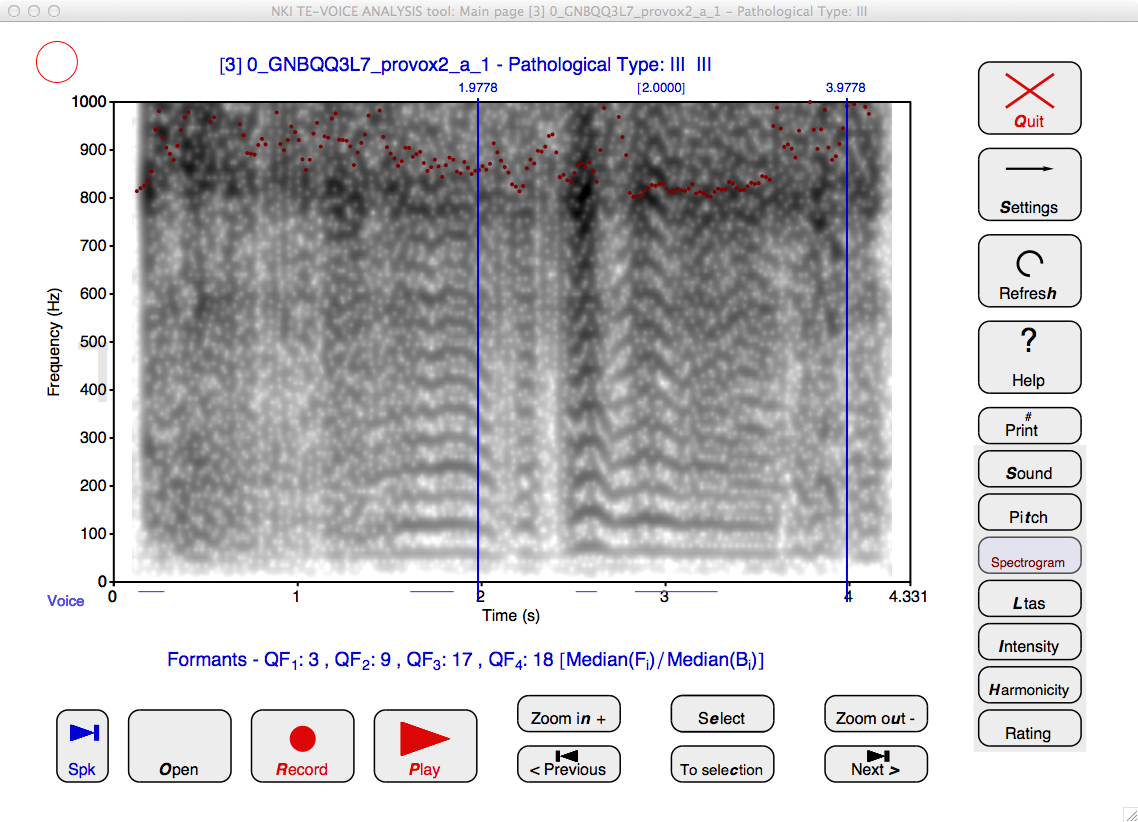 The NKI TE-VOICE ANALYSIS tool (TEVA) is an interactive application for teaching and research of Tracheoesophageal speech developed as part of an unrestricted research grant of Atos Medical. TEVA is licensed under the GNU General Public License (GPL) version 2 or later.
More information can be found in the TEVA Manual. The manual is also available as a single page for printing or as a PDF file (PDF might be outdated).
NKI TEVA is available for the major platforms as ZIP compressed executables (latest build: )
Some example scripts and data from a study submitted to Interspeech 2013.
Warning: Only a limited amount of quality control can be performed on the application and executables. Although we do our best to deliver a safe and robust application, we must warn that the applications and executables available on this page can contain errors and bugs that could pose a security risk. Therefore, any applications and executabless downloaded from this page should be used with care. Note the NO WARRANTY clause below.
The full sources are available in the source directory also from our Git repository git://uvafon.hum.uva.nl/TEVA. Note that you need the Praat sources to build the executables. Praat enables the creation of stand alone applications from scripts using the Praat Demo Window. TEVA is a Praat script that is re-compiled in praat and turned into a stand alone program. Instructions on how to (cross-) compile Praat for MS Windows can be found on this page.
---
11. BECAUSE THE PROGRAM IS LICENSED FREE OF CHARGE, THERE IS NO WARRANTY FOR THE PROGRAM, TO THE EXTENT PERMITTED BY APPLICABLE LAW. EXCEPT WHEN OTHERWISE STATED IN WRITING THE COPYRIGHT HOLDERS AND/OR OTHER PARTIES PROVIDE THE PROGRAM "AS IS" WITHOUT WARRANTY OF ANY KIND, EITHER EXPRESSED OR IMPLIED, INCLUDING, BUT NOT LIMITED TO, THE IMPLIED WARRANTIES OF MERCHANTABILITY AND FITNESS FOR A PARTICULAR PURPOSE. THE ENTIRE RISK AS TO THE QUALITY AND PERFORMANCE OF THE PROGRAM IS WITH YOU. SHOULD THE PROGRAM PROVE DEFECTIVE, YOU ASSUME THE COST OF ALL NECESSARY SERVICING, REPAIR OR CORRECTION.
12. IN NO EVENT UNLESS REQUIRED BY APPLICABLE LAW OR AGREED TO IN WRITING WILL ANY COPYRIGHT HOLDER, OR ANY OTHER PARTY WHO MAY MODIFY AND/OR REDISTRIBUTE THE PROGRAM AS PERMITTED ABOVE, BE LIABLE TO YOU FOR DAMAGES, INCLUDING ANY GENERAL, SPECIAL, INCIDENTAL OR CONSEQUENTIAL DAMAGES ARISING OUT OF THE USE OR INABILITY TO USE THE PROGRAM (INCLUDING BUT NOT LIMITED TO LOSS OF DATA OR DATA BEING RENDERED INACCURATE OR LOSSES SUSTAINED BY YOU OR THIRD PARTIES OR A FAILURE OF THE PROGRAM TO OPERATE WITH ANY OTHER PROGRAMS), EVEN IF SUCH HOLDER OR OTHER PARTY HAS BEEN ADVISED OF THE POSSIBILITY OF SUCH DAMAGES.