Archive of the Institute of Phonetic Sciences (IFA), Amsterdam: Cecilia Odé
Cecilia Odé:
born 21 September 1946, Amsterdam
died 9 January 2019, Amsterdam, aged 72
The remainder of this web page is a copy of Cecilia Odé's former UvA website.
---
Programme and overview of abstracts of the conference "Voices from the Indigenous Siberia, with an Emphasis on Yukaghir" (13 December 2013)
Conference announcement 13 December 2013: "Voices from the Indigenous Siberia, with an Emphasis on Yukaghir"
Follow the link below for an interview in Russian with Cecilia Odé on the Tundra Yukagir, Russian TV "Kul'tura", d.d. 31-01-2013 (5 minutes) with Dutch subtitles.
Interview in Russian with Cecilia Odé
The documentary "Stemmen uit de Toendra - De laatste der Joekagieren" (Cecilia Odé, Edwin Trommelen & Paul Enkelaar) won the Grand Prix at the ARKTIKA 2012 Film Festival.
Download the press release (in Dutch)
De taalcanon is uit in boekvorm bij Meulenhoff en op de website www.taalcanon.nl.
KLIK HIER VOOR CECILIA ODÉ'S BIJDRAGE AAN DE WEBSITE VAN DE TAALCANON
Members of the Tundra Yukagir Research Project:
Dr Cecilia Odé, linguist
Mark Schmalz, PhD candidate
Edwin Trommelen and Paul Enkelaar, documentation
Click here to download the brochure on the project in Russian
Click here to download the brochure on the project in English
General information about Cecilia Odé
"Segmental phonetics also has its charms" Article to the memory of Lidia Bondarko
Abstract of the article:
The article discusses the status of the Tundra Yukagir (hereafter TY) vowel phoneme /ö/. After a short overview of the TY vowel system as it is described so far by various authors, a production experiment is discussed that was set up in order to study the problem of how to define the phoneme /ö/ in the TY vowel system. Questions about the phoneme arose during my fieldwork among TY speakers. They reported that TY speakers pronounce /ö/ too often as Yakut /ö/, a close-mid front vowel. Since most TY speakers master Yakut rather well, it can be a matter of interference between the two languages.
CLICK HERE FOR A PDF OF THE ARTICLE PUBLISHED IN 2012
CLICK HERE FOR A PDF OF THE ARTICLE, PUBLISHED IN 2011 IN A FESTSCHRIFT FOR NATALIA SVETOZAROVA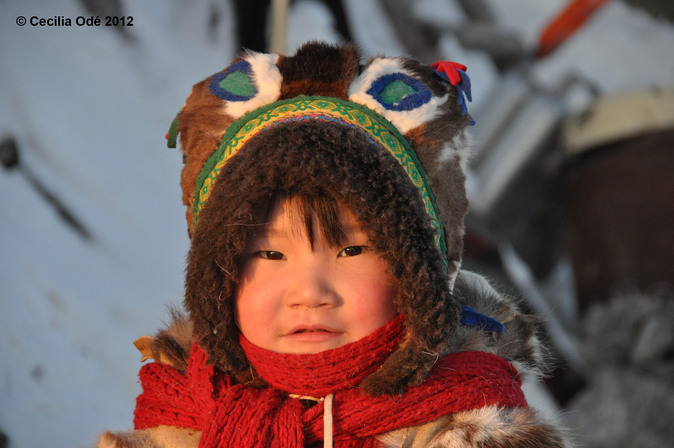 Alayii, a five year old Tundra Yukagir girl © Cecilia Odé 2012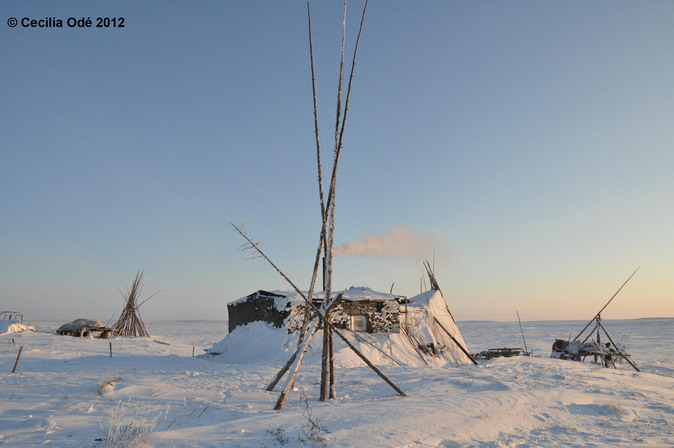 A Tundra Yukagir settlement on the tundra where Alayii's grand- and great-grandparents live © Cecilia Odé 2012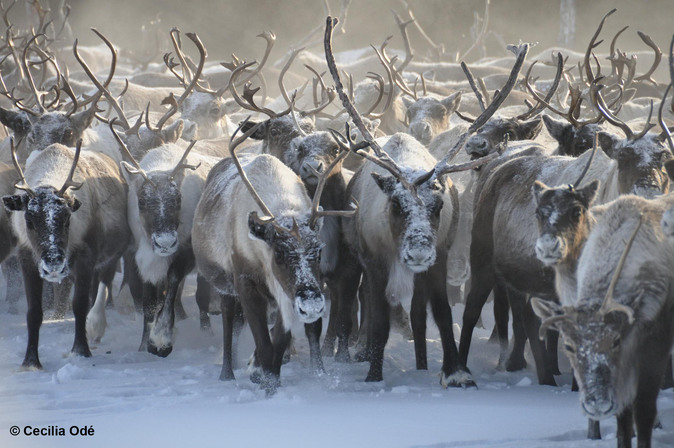 Reindeer on the tundra, March 2012 © Cecilia Odé 2012
Reisbrieven veldwerk 2010 en 2012 (alleen in het Nederlands)
Interview
Interview met Cecilia Odé door Geramé Wouters in Levende talen Magazine, januari 2012
Nikolai Kurilov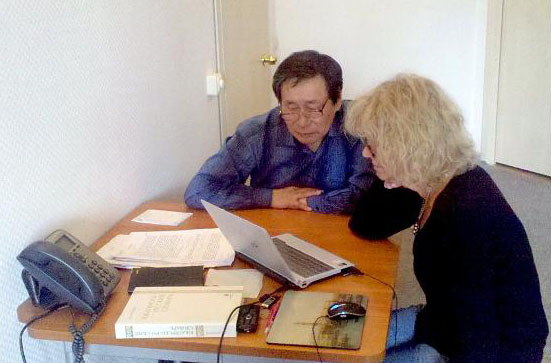 Nikolai Kurilov, Tales from my mother Anna Kurilova. Edited by Cecilia Odé.
Николай Курилов, Рассказы матери Анны Куриловой. Редактор Сесилия Оде.
Nikolaj Koerilov, Verhalen van mijn moeder Anna Koerilova. Redactie Cecilia Odé.
Николай Курилов: В эту книгу я включил рассказы матери, Анны Васильевны Куриловой, которые я записывал с 1977 года до ее кончины в 1991 годy. Здесь она рассказывает освоей жизни, о жизни тундровиков и наиболее запомнившихся событиях в ее жизни.
Nikolai Kurilov: In this book I have included stories told to me by my mother, Anna Vasil'evna Kurilova, which I recorded from 1977 until her death in 1991. In these stories she tells about her life, its most memorable events and about the life of tundra people.
Cecilia Odé: The present collection of texts, narrated in the Tundra Yukagir language by Anna Kurilova to her son Nikolai, forms a unique document about the Tundra Yukagir, a small people in the far North of Siberia. The stories tell about life on the tundra, explain family relations and kinship terms, personal names and toponymics, and how dye was made; Anna Kurilova also describes the traditional calendar.
The stories are recorded in Tundra Yukagir by writer and artist Nikolai Kurilov who also made the Russian translation. Cecilia Odé and Eric de Haard translated the stories into English.
Сесилия Оде: Настоящее собрание текстов, которые Анна Курилова рассказывала своему сыну Николаю на тундренном юкагирском языке, является уникальным документом о жизни тундренных юкагиров. Юкагиры - малый народ на дальнем севере Сибири. Это рассказы о жизни в тундре, об отношениях между родственниками, о терминах родства, о личных именах, о топонимике, о том, как делали краски. Анна Курилова также описывает традиционный календарь.
Писатель и ходужник Николай Курилов записывал рассказы в тундренном юкагирском и перевел их на русский.
Сесилия Оде и Эрик де Хаард сделали англисйкий перевод.
Cecilia Odé: Deze verzameling teksten, door Anna Koerilova in het Toendra Joekagir verteld aan haar zoon Nikolaj, vormt een uniek document over de Toendra Joekagir, een klein volk in het verre noorden van Siberië. De verhalen vertellen over het leven op de toendra, verklaren familierelaties en verwantschaptermen, namen van personen en geografische plaatsen, en hoe kledingverf werd gemaakt; Anna Koerilova beschrijft ook de traditionele kalender.
De verhalen zijn in het Toendra Joekagir opgetekend en in het Russisch vertaald door de schrijver en schilder Nikolaj Koerilov.
De Engelse vertaling is van Cecilia Odé en Eric de Haard.
Pegasus Publishers Amsterdam
€ 17,50
LINK to the website: Pegasus Amsterdam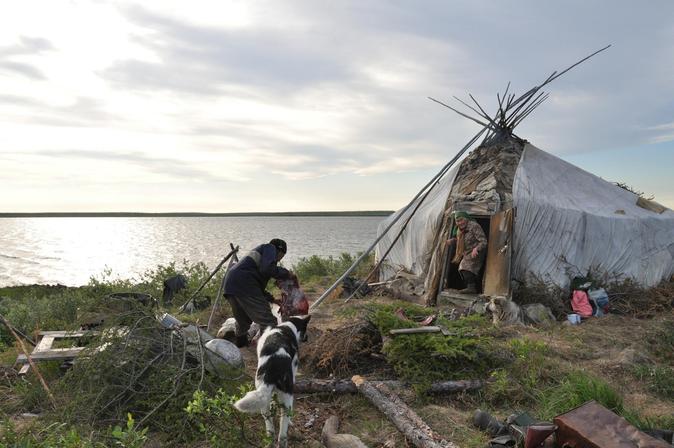 Summer on the tundra near Andryushkino © Cecilia Odé 2010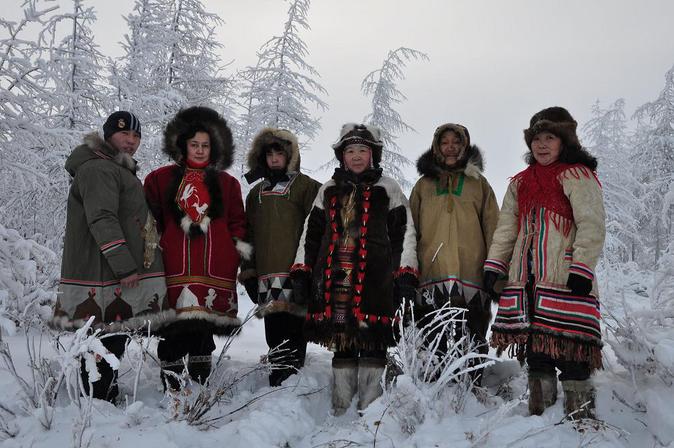 Tundra Yukagir in traditional costumes on the tundra near Andryushkino © Cecilia Odé 2009
TUNDRA YUKAGIR, an NWO Research Project since spring 2009
Tundra Yukagir, a nearly extinct Paleo-Asian Isolate in Arctic Russia: a Collection on CD/DVD of Linguistic and Folkloristic Materials of the Language and Culture of a Siberian People for Documentation, Education and Safeguarding for Posterity.
See also "Voices from Tundra and Taiga" below.

Cecilia Odé in a traditional Tundra Yukagir costume, picture taken by Anna Pomagaeva on the tundra near Andryushkino, November 2009.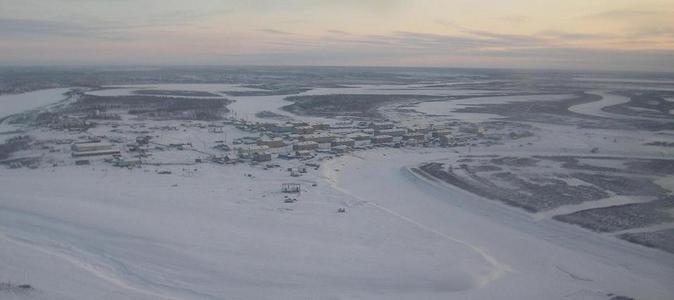 The village of Andryushkino seen from the helicopter in October 2009. © Cecilia Odé
LINKS:
Powerpoint presentation December 2010
Powerpoint presentation by Dejan Matić and Cecilia Odé (St Petersburg, December 2010) on Morphological focus marking and pitch prominence in Tundra Yukagir.
Click here to download the Powerpoint Presentation
Poster Presentation
Poster presentation by Dejan Matić and Cecilia Odé on Morphological focus and pitch prominence in Tundra Yukagir, presented at the NWO-ELP Conference, Leiden University, April 2011.
Click here to download the Poster
Below: Poster on the website of the Center for International Heritage Activities.
LINK to the Center for International Heritage Activities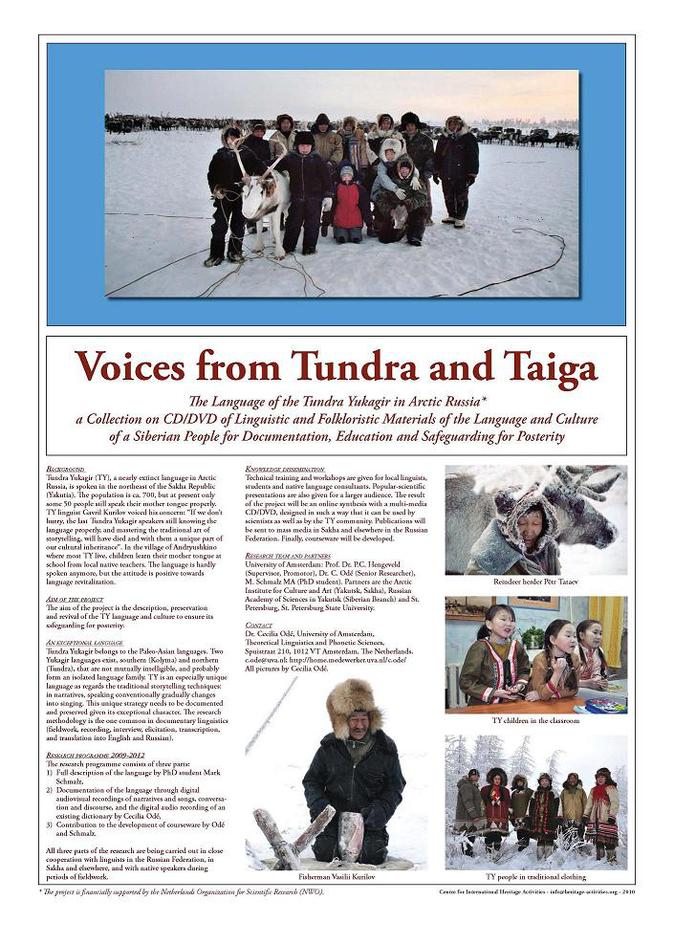 Wat maakt het uit dat talen uitsterven?
Artikel in dagblad Trouw van 9 juni 2008.
Lees het interview met Bennie Mols
Bedreigde talen module
Recensies m.b.t. website Bedreigde Talen
Nominatie: Juryrapport Taalgala 2008
AN INTERACTIVE E-LEARNING MODULE ON ENDANGERED LANGUAGES
WEBSITE AVAILABLE IN BRAZILIAN PORTUGUESE, DUTCH, ENGLISH, RUSSIAN AND SPANISH ON WWW.ENDANGEREDLANGUAGES.NL
OR ON
WWW.BEDREIGDETALEN.NL
LINKS for the websites and the brochure:
Workshops on endangered languages in the capital Ulan Ude and in villages in Buryatia, Summer 2008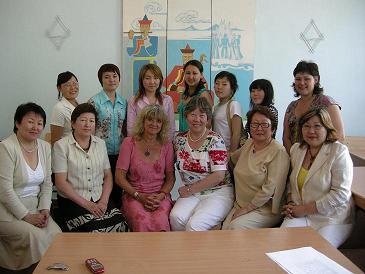 Teachers and students attending the workshops in Ulan Ude.
From 18 June till 1 July 2008 workshops on Endangered Languages were given by L'ubov' Radnaeva, Elizaveta Afanes'evna and Cecilia Odé in Ulan Ude, Republic of Buryatia (Russian Federation) at the Buryatia State University and at schools in Buryati and Evenki village.
Click here to read my article for KATBLAD NR 95, September 2008, on Kazakhstan and Buryatia in Dutch
PhD defense at the al-Farabi Kazakh National University in Almaty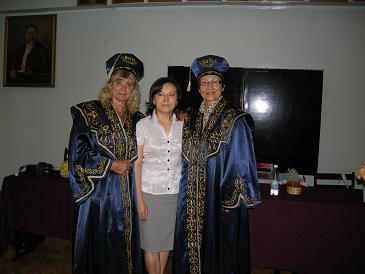 On 19 May 2008 PhD student Danel' Karagoishieva (middle) defended her doctoral dissertation on Kazakh intonation at the al-Farabi Kazakh National University in Almaty: "Экспериментально-фонетический анализ интонации казахского языка (An experimental-phonetic analysis of Kazakh intonation)". Eleonora Suleimenova (right) and Cecilia Odé (left) were her promotores from 2005-2008.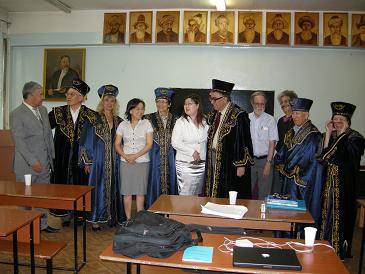 Professor K.A. Abdezuly (far left), Dean of the Faculty of Arts of the al-Farabi Kazakh National University in Almaty, Kazakhstan, and the scientific committee after the promotion of Dr Danel' Karagoishieva on 19 May 2008.
NEW TRANSCRIPTION OF RUSSIAN INTONATION ToRI, AN INTERACTIVE LEARNING AND RESEARCH MODULE IN ENGLISH AND RUSSIAN
WEBSITE AVAILABLE AT http://www.fon.hum.uva.nl/tori/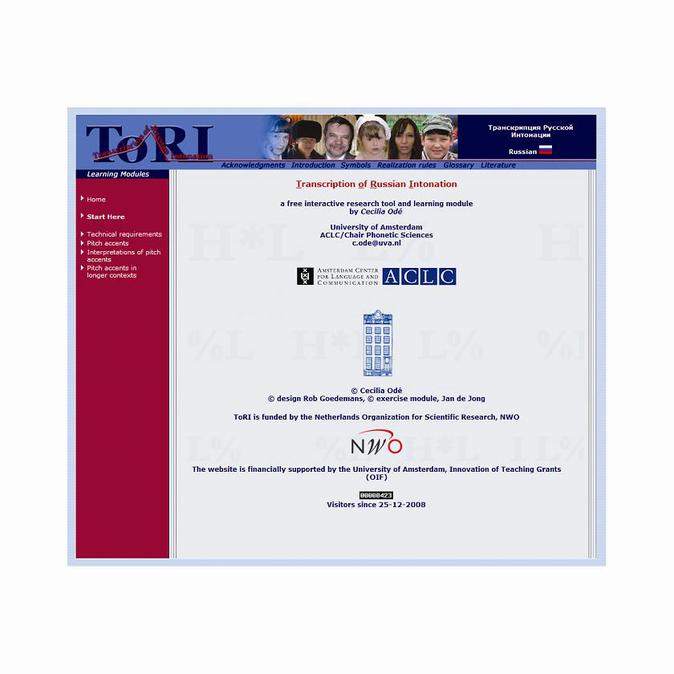 NWO-funded research project Description and Transcription of Russian Intonation (ToRI) NWO project 355-75-004
The aim of the research is a description of phonetic, phonological and functional properties of Russian intonation with a transcription system in unambiguous symbols that will be adapted for and implemented on the Internet as a free interactive research tool and learning module ToRI: Transcription of Russian Intonation. The intended result is a reliable and reproducible transcription system for spoken corpora of Russian (Moscow and St Petersburg varieties), inspired by ToDI (Transcription of Dutch Intonation, see link below), but for language-specific reasons it will considerably differ in its transcription. It might be useful for the development of speech synthesis and, possibly, speech recognition. To our knowledge, ToRI will be the first transcription of its kind in which experimentally verified relations between form and contextual function are expressed in unambiguous symbols. ToRI will be designed insuch a way that it can be used as a learnable system for linguists and advanced students, as a research tool for (field)work on Russian dialects and intonational contact phenomena of Russian dialects with local languages in Russia, for comparative and language typology studies.
Published August 2008: "ToRI, A Transcription of Russian Intonation. An Interactive Research Tool and Learning Module on the Internet"
Published in Dutch Contributions to the Fourteenth International Congress of Slavists, Ohrid: Linguistics. Studies in Slavic and General Linguistics vol.34, P. Houtzagers, J. Kalsbeek, J. Schaeken (Eds). Rodopi, Amsterdam/New York, p. 431-449.
Click here to read the article
Published autumn 2008 "Communicative functions and prosodic labelling of three Russian rising pitch accents"
Invited paper in: Evidence and Counter-evidence, Essays in honour of Frederik Kortlandt, Vol.1: Balto-Slavic and Indo-European Linguistics. Studies in Slavic and General Linguistics 32, Alexander Lubotsky, Jos Schaeken, Jeroen Wiedenhof (Eds), pages 377-401.
Click here to read the article
RUSSIAN DIALECTAL PHONETICS, a Multimedia Educational and Scientific Interactive Resource, A research project in the framework of the NWO/RFFI Dutch Russian Research Cooperation, June 2006 - June2008.
WEBSITE AVAILABLE AT http://dialect.philol.msu.ru/index.php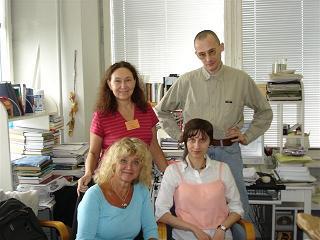 Russian Research Group: G.E.Kedrova (coordinator and key researcher), S.V. Kniazev (key researcher), E.V. Shaoulski, E.V. Moisseeva, (young scientists), M.Volkova (design), Moscow State University, Faculty of Arts, Russian Department. Dutch Research Group: C. Odé (coordinator and key researcher), University of Amsterdam, Institute of Phonetic Sciences.
The proposed research aims at the creation of a new open-source electronic public resource in Humanities based on the "Shareable Courseware Object Reference Model (SCORM)" standards. Its main focus is education within the scope of Russian philology and linguistics. One of the project's main aims is authoring of a SCORM-consistent electronic multi-media educational and scientific interactive resource, namely an e-Course "Russian Dialectal Phonetics". This resource will be made available on-line (on the Internet) or could be distributed upon requeston CD. The target audience is not only students and professors of Slavic philology around the world, but also people who are interested in Russian dialects as the foundation of the Russian traditional culture.
The course includes two major components: a theoretical overview and a practical section (on-line tests, exercises). An interactive glossary of linguistic and other special terms is appended. The theoretical overview is realized as an interactive hypertext with internal cross-references and links to multi-media files. It covers the basic linguistic curriculum of Russian dialectology. We consider historical evidence from the Church Slavonic language as an integral part of our theoretical background. Therefore, relevant elements from reconstructions of the previous state of the language and its former variants will also be presented as the basis of the modern Russian dialects. As a multimedia product our course will comprise texts, charts and diagrams, other relevant illustrations (a dialect atlas, maps, photos, video fragments, etc.), original dialectal spoken language records from the archive of dialectological expeditions of the Philological Faculty of the MGU (either previously published or recently digitized).
Links:
Voices from Tundra and Taiga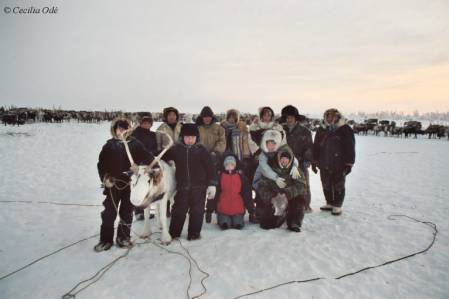 Tundra Yukagir reindeer herders near Andryushkino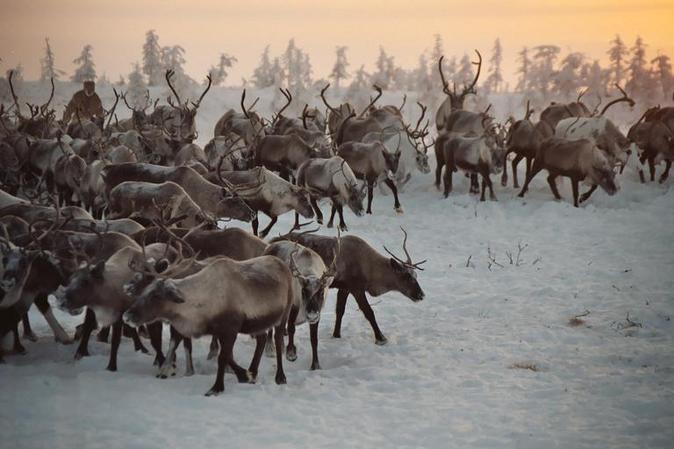 Reindeerherder with his herd on the tundra, 100 km north of the village of Andryushkino, November 2004. © Cecilia Odé
The project "Voices from Tundra and Taiga" is a development programme for research on endangered languages in Northern Asia, focusing on the languages and cultures of the people of Sakhalin (Nivkh, Ulta, Nanai, and Evenki) and the Sakha Republic (Tundra Yukagir (see picture), Evenki, and Even) in the Russian Federation. The aim of the project is to build up a scientific digital phono- and video-library of ethnolinguistic materials on CD/DVD and on the Internet (e.g. spoken texts, folk songs, folkloristic narratives) that can be used for research, and to develop courseware for the safeguarding and revitalizing of the given languages. The project was initiated in 2000 by Dr Tjeerd de Graaf. "Voices from Tundra and Taiga" is partly financed by the Netherlands Organization for Scientific Research (NWO) and by Sakhalin Energy Investment Company Ltd.
Via the links below articles, interviews and reports on the project Voices from Tundra and Taiga can be found in Dutch, English and Russian.
Leiden Summer Schools in Indo-European, Indology and Russian 2006
These three Summer Schools were held from 31 July - 11 August 2006 at the Faculty of Arts of Leiden University. Each of the Summer Schools offered a number of courses on a wide range of subjects by international specialists, including a workshop on Russian intonation by Cecilia Odé.
IIAS Workshop, Amsterdam 20 April 2006
IIAS workshop THE MUSICAL FOLKLORE OF THE PEOPLES OF NORTHERN ASIA by Yuri Sheikin and Tatjana Ignatieva (Arctic State Institute of Culture and Arts in Yakutsk, Republic of Sakha)
This IIAS workshop was organised on Thursday 20 April 2006 at the IIAS Branch Office Amsterdam at the Amsterdam Conservatoire, Jan Odé room, for students, teachers and researchers in the field of ethnomusicology, folklore, anthropology, linguistics and phonetics. Professor Sheikin presented the culture of the endangered northern peoples Chukchi, Udege, Evenki, Forest Nenets and the Khanty, while Mrs Ignateeva presented the musical culture of the seriously endangered people Yukagir. After an introduction on the musical folklore of these peoples, a demonstration of musical examples from shamanism, epic literature, sung improvisations, sound imitations, music of Bear Festivals and round dances was presented live on traditional musical instruments and on CD (available for participants), with an explanation of the making of these instruments. Participants had the possibility to play some instruments and to learn the specific art of singing.
[Note: information about the continued availability of the CD may appear here]
The Tundra Yukagir Language: Towards a Description of Intonation, by Cecilia Odé (in Russian)
Abstract of the article:
This article sketches the situation of the language of the Tundra Yukagir and discusses an experimental-phonetic approach to two types of question intonation in the language of the Tundra Yukagir. The aim of the scientific project "Tundra Yukagir" is to describe and document this seriously endangered language, which also includes a description of prosody. This article discusses two types of question intonation: yes/no questions and wh-questions. As a result of phonetic experiments an analysis of these types is given and contrasted with Russian intonation. As Tundra Yukagir is a language with morphological focusmarking, the possible interaction between prosodic prominence and morphological focusmarking is also experimentally studied. This interaction was not observed in question intonation, but it was found in the intonation of the answers to the questions.
---
Go to Phonetic Sciences home page
maintained by Paul Boersma, 12 April 2019